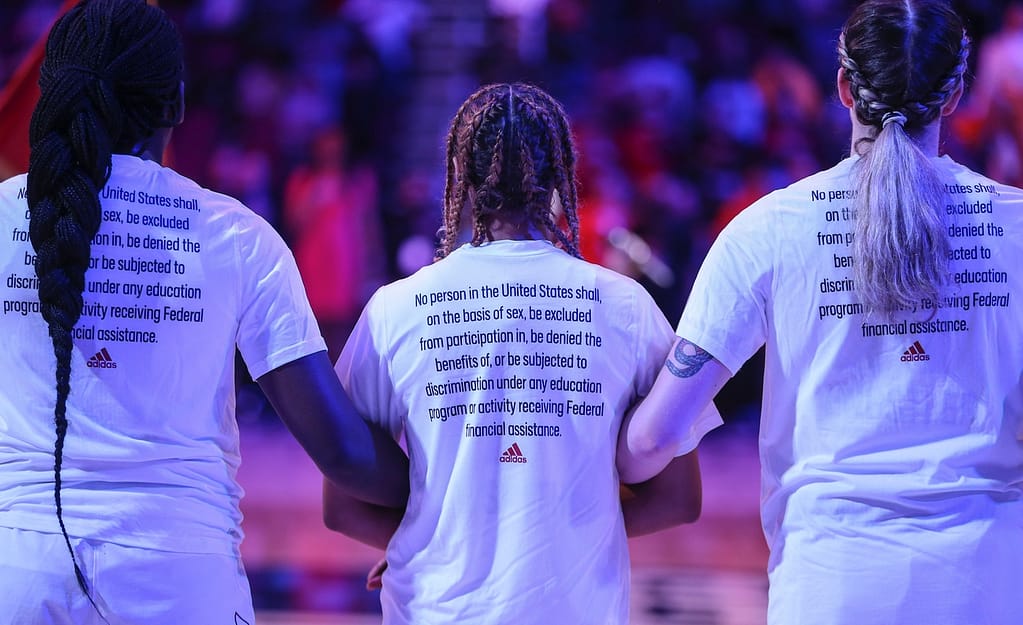 This June marks the 50th anniversary of Title IX, which has led to a dramatic increase in the number of women and girls participating in athletics. The progress over the past 50 years is undeniable.
"In 1972, there were just over 300,000 women and girls playing college and high school sports in the United States. Female athletes received 2% of college athletic budgets, while athletic scholarships for women were virtually nonexistent. By 2012, the 40th anniversary of Title IX's passage, the number of girls participating in high school sports nationwide had risen tenfold, to more than 3 million. More than 190,000 women were competing in intercollegiate sports—six times as many as in 1972. By 2016, one in every five girls in the United States played sports. Before passage of Title IX, that number had been one in 27." – Excerpt from How Title IX Transformed Women's Sports
There is no space for the argument that women's sports aren't as good as men's sports. There is only the evidence that equitable funding, media coverage, and support leads to decreased disparity, and women's sports are on the rise. In the next 50 years of Title IX, we'll continue to push boundaries of what is possible in women's sports. There is still work to be done.
If you are unconvinced that women's sports are unequivocally awesome, start by asking yourself this question: "Are you even watching?" Either you haven't given women's sports a chance, you don't know where to find them (a problem highlighted in the next paragraph), or you aren't sure which sport might be for you (a problem I'll help to solve in the remainder of this article).
According to basketball legend, Sue Bird, "It's been documented that we don't get the media coverage. We don't get corporate sponsorship money that other leagues get and I would just challenge people to also look at us as an investment. We are a good investment. We're a league that is succeeding, that is clearly turning a corner and that's been with lack of investment, with lack of coverage. So, imagine if we got it?"
In what follows, I'll highlight 6 women in basketball who represent the best of who we can be when we prioritize and promote women in sports.
Dawn Staley
Her Olympic resume includes 4 gold medals: 3 won as a player on Team USA, and 1 as a coach. She has multiple USA Basketball National Coach of The Year titles, and currently coaches the women's basketball team at South Carolina. In her 14th season at SC, she has a national championship and 3 Final Four appearances, including the one this year, where the Gamecocks will line up against the Louisville Cardinals for a chance to advance to the National Championship.
This is the first season that the college women's basketball tournament is being called March Madness, as well as the first year the womens' tournament includes 68 teams and play-in games. Tune in to the Final Four this Friday, April 1st!
Read on about how Dawn Staley is more than just her (outstanding) list of accomplishments.
Renee Montgomery
After playing 11 seasons in the WNBA, winning 2 championships, Renee Montgomery retired and became the first WNBA player to co-own her team, replacing the former owner – a Senator who actively opposed issues that the WNBA players were fighting for. Renee embodies the calling: if not me, then who? Read on.
Tara Vanderveer
As of the writing of this article (March 2022) Tara Vanderveer, the coach of the Stanford Women's Basketball Team, has 1,157 coaching wins, the most in women's college basketball history. This Friday, the Cardinal will take on my beloved UConn Huskies for a chance at Tara's 4th National Championship. Although I have nothing but the utmost respect for Tara, I wish her nothing but terrible luck.
In keeping with the theme of activism amongst these incredible women, Vanderveer has pledged $10 for every 3-pointer made in the NCAA women's tournament in support of humanitarian efforts in Ukraine. She challenges fans and other coaches to join her in giving what they can. Read on.
Becky Hammon
Becky Hammon is groundbreaking. When she was hired by the San Antonio Spurs in 2014, she became the first full-time female assistant coach in NBA history, as well as in any of the 4 major men's professional sports leagues in the US. She is the first woman to serve as the head coach in the Spurs' summer league and became the first female acting head coach in NBA history when Gregg Popovich was ejected during a game in December 2020. Next up, she'll put the NBA on hold as she returns to the WNBA to become the head coach of the Las Vegas Aces. Read on.
Paige Bueckers
The rumors about how good this recruit was coming out of high school seemed a little bit unbelievable to me. She is currently only a sophomore at UConn but after winning the player-of-the-year honors as a freshman, this young woman is ready to change the game. It's not just her basketball skills that make her special though, watch her acceptance speech after winning the ESPY for Best Female College Athlete.
Fran Belibi
And just to end this on the right note, without needlessly giving Stanford too much credit right before they play the Huskies in the Final Four, Fran Belibi proves that women can dunk too.