I had the pleasure of interviewing my husband, Ryan, about his Sherpa performance at Ironman Coeur d'Alene. You may not assume from the potato costume that Ryan takes his roll as seriously as he does. On the day that I did my 1st Ironman (Ironman Arizona 2015) where it rained continuously throughout the day, he found himself compelled to stand in the rain without even momentarily taking cover until I crossed the finish line. He knew that his most empowering support came from being engulfed in the experience of the race with me.
Starting that day, Ironman became something we do together, as a unit.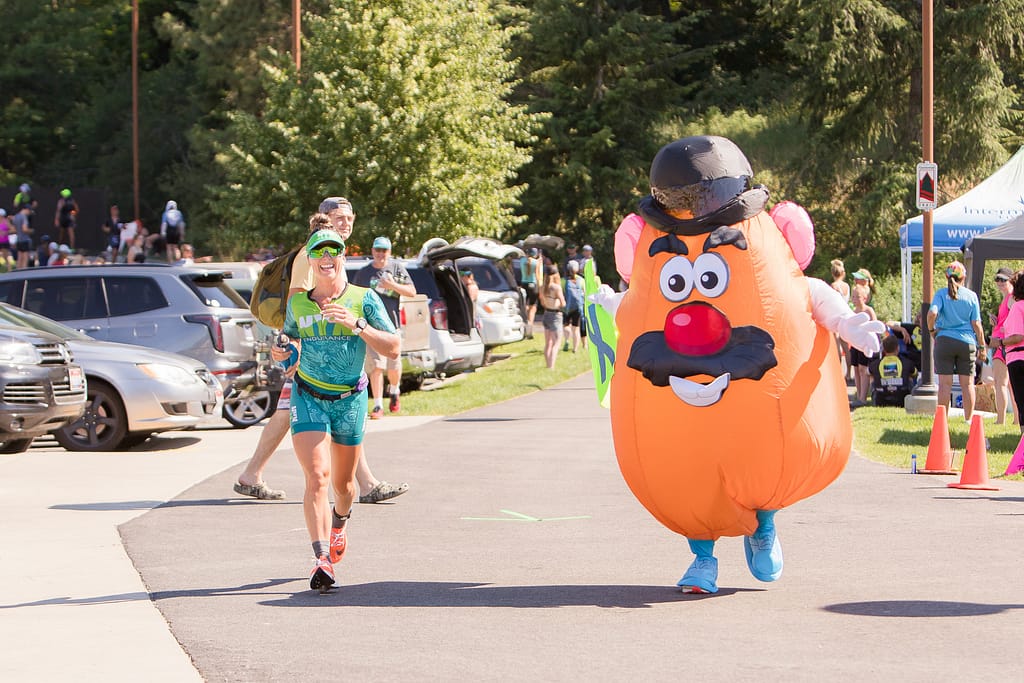 On race day, we each have a role to play – a specific way that we give of ourselves. And we also remain open to receiving. There's vulnerability and flow when we give and receive. I can only speak for myself when I say how grateful I am for all of the sherpas, supporters, and volunteers helping me through a race. When I'm out there suffering, I'll take anything I can get – whether that's ice, a cold towel, or a "keep going, you're doing great" from a random stranger. Even if I didn't previously believe that I was doing great, I can borrow their belief and allow it to propel me.
Although Ryan and I have known what he gets out of race day, we haven't explicitly named it, until now.
How do you see your role as an Ironman Sherpa?
I look at Ironman sherpa'ing as two different jobs. My first priority is always my racer but as an Ironman Sherpa, it's also about getting a few other people across the line, too. Ultimately it's hard to quantify the role, because it's not measurable but you just hope you're making somebody's day a little bit easier.
What was your Sherpa race plan for IM Coeur d'Alene?
Well this was one of those races where you had an opportunity to see your racer a lot, so the first goal is just to optimize the amount of times you see your racer. On courses like this where there are loops or figure 8's, you gotta optimize your strategy. Those make for special days because you get to see your racer so much. So that was the general plan, and then the plan within the plan was to see how your day went and have as much fun with it as possible. I had to get myself into the potato costume at the most opportune time based on how you were doing and feeling. The biggest variable was the heat. I had to find a way to get it on and not die in the mean time.
What do you believe I need from you on race day?
Well, that's weird to answer in front of you. Above everything else, I think I can give you someone to share the experience with on a deep level. You have somebody you get to experience an Ironman with who understands what you're going through on that day. And not that you need that but you might, and I'm always there for you. You're pretty smiley on your own but I try to give you the easiest smiles of your day. You don't really need a lot from me. I feel lucky in the moments where you do actually need something from me, like when you say "I forgot my timing chip in the hotel room," and then I have an actual task to do. But sharing in the moments is really the most meaningful thing I can give you.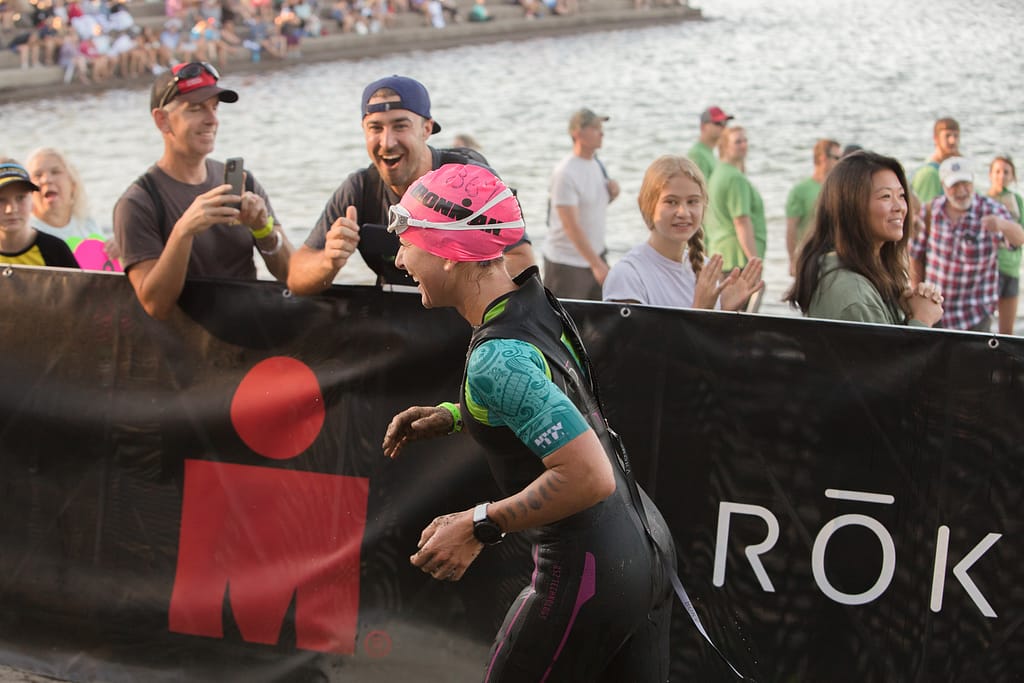 How did your plan change/evolve throughout the day?
Well the heat was a tremendous variable. So you know how there are no "firsts" on race day? Well that was the first time I put a potato suit on and I completely underestimated how hot it was going to be in that thing. So the unfortunate part of the plan that had to change was that I was hoping to make more racers happy. I knew I could be there for you but my sherpa game for the rest of the Ironman community was limited by the heat and my inability to be in the potato for longer. And poor Gina had to take the costume off of me and kept getting hit with the wave of hot body odor. She could only have unzipped that costume a limited amount of times before she may have died of heat exhaustion and stench.
What was the highlight or some of the highlights of your day?
There are so many. On the highest level, I was so grateful that an Ironman was happening. So grateful that the community was back together.
A second highlight was seeing so many NYX athletes out there. It was a tough day and seeing so many NYX athletes push themselves in one of the toughest race days that I've ever been a part of was amazing. Whether or not people finished, the athletes who started that day – there's a level of toughness that it took to even toe the start line.
Running with you down the finisher shoot was a lot of fun. There was a local guy from Coeur d'Alene who had been cheering all day who started chasing after me to cheer me on for cheering you on. He chased me so far. That was a pretty cool moment.
How would you rate your Sherpa performance? What did you nail and what are your areas of improvement?
I would say it was about as good of a sherpa day as I could have imagined. I would have loved to be able to get all the NYX athletes across the finish line, but overall I thought it was a good day. Having all the rest of the Sherpa Squad there was awesome. Next time though, we'll get more of the NYX folks across the finish line.
How would you rate Coeur d'Alene as a race venue for Sherpas?
10/10 – highly recommend.
How does NYX support you as a Sherpa or support Sherpas in general?
The thing about my role is that my role doesn't exist unless there are racers. So it's one of those Schrodinger's cat type dualities where I'm not sure if a sherpa would exist without its racer so just by showing up the racers give the sherpas a purpose. And I do always feel the love back. As much energy as I put out and am trying to give everything, you do get a wave of gratitude back. It's amazing to me that racers are down to their last breaths, and they choose to use those breaths to thank a volunteer.
Part of what makes the Ironman community special is the fact that it's a true community. It's not just athletes doing a race. It's not just the pro's, it's not just the "fast" people – it's truly about the community and the families and spectators. NYX has given spectators and sherpas a home. I've been part of 3 different teams that you've been a part of and this is the first time that the sherpas, families, and supporters have a key role. We're an important part of the bigger community.
What would you like future Sherpas to know?
I'd want sherpas to know that they are part of the race. Being a spectator is not like being a spectator at other sports where sure, your cheering matters. Your cheering really matters at an Ironman. You're really part of something. If you really want to see what the human spirit looks like and be reignited by the energy and the oneness of all things, go to an Ironman and just be present. You will have a moving, growing day and you don't even need to train for it. You can just show up.
Maybe this is a public service announcement but whether or not your racer is you* or a normal human, it means a lot to them that you're there. Just sharing in the experience matters. Ironmans are a special day. 
*This is just Ryan's delicate way of calling me weird.
All photos courtesy of Coach Laura's sister, Gina Eichert.
IG: @ginamaria_photography