This is a story about the infinitely regenerating energy that flows between endurance and community.
This story is an acknowledgement of the people who reflect our light back to us more brightly, as we venture through the darkness.
This our story. It's probably your story too.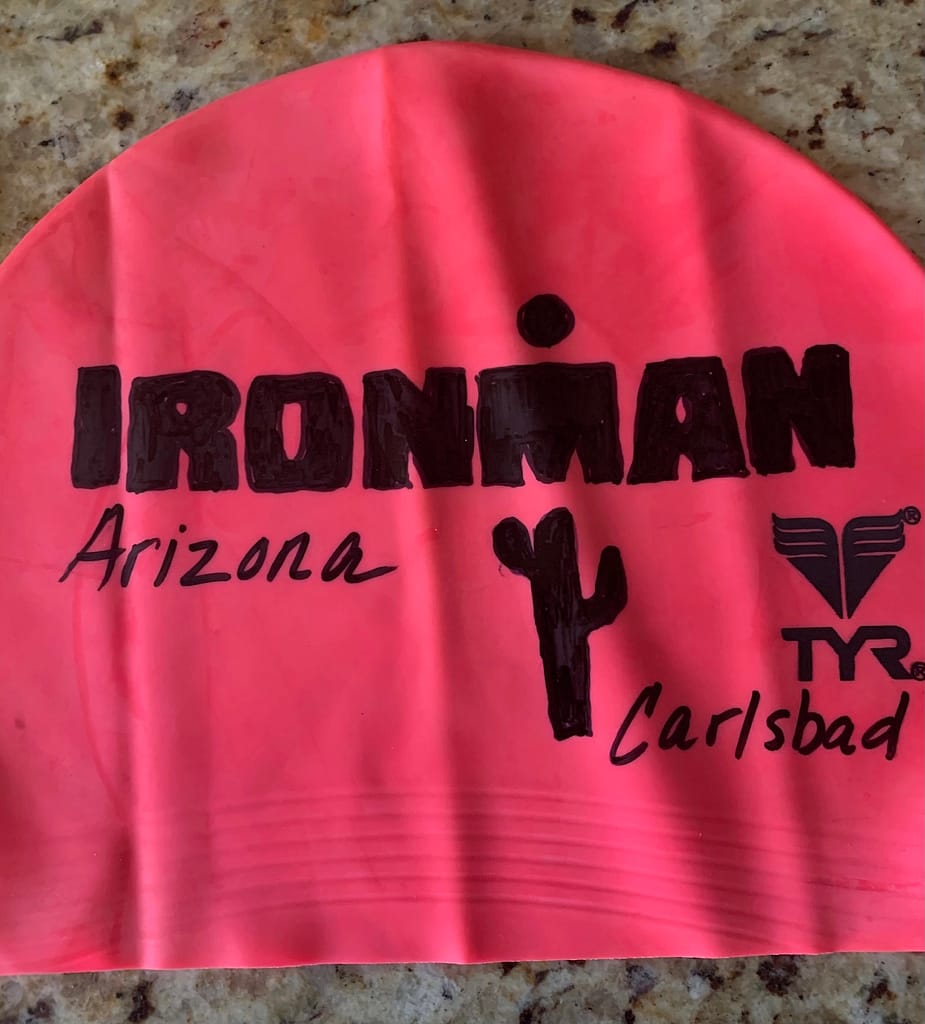 Kasey Burcham had been training all this year and all last year to become an Ironman. She had her sights set on Ironman Arizona, and even with the ups and downs of the covid-induced race cancelations, it appeared as though IMAZ would happen… Until 10 days before the race when Ironman announced that it wouldn't.
Kasey:
"I was so upset when they canceled IMAZ. Coach Julie and I had batted around the idea earlier in the year that if it does get canceled, we would do our own version. I thought she was just kidding. But she knew that this year has been very rough for me emotionally and that IMAZ was the one thing that I was holding onto to keep me going. When Julie heard the news and called me, she said the text messages were already flying and we were going to do it here. She said that everything was going to be okay and we were going to make it happen. I felt relieved, and also afraid.
Afraid that I was taking time away from others and that I was not worthy of this.
Afraid that I was not going to be able to finish and that I would be wasting everyone's time and effort.
Relieved and excited that I was going to finally see if I could do this and see all the years of hard work put together for the ultimate test."
Both/and.
Behind the scenes, Coach Julie began to rally the troops, which turned out to be an easy task. The San Diego NYX Mob couldn't wait to rally behind Kasey. When asked what they were most looking forward to about Kasey's race day, here's what they said:
Chris: "Being there for her and supporting her. I think there is something about having people you know and/or love along the course rooting for you that helps you dig a little deeper, push a little harder, go a little faster."
Jeff: "The moment of joy as she crossed the finish line that would change her life and her perception of her abilities, forever."
John: "Cheering for her and supporting her on an amazing journey. Watching her complete the culmination of years of training, heart ache, injuries, and friendship to become an Ironman."
Alex: "Seeing her fulfill her dream despite the challenges 2020 had for all of us and for Kasey specifically. She's such a sweet yet badass lady so it's so fun to see her persevere."
Alexis: "Cheering her on and being there at the end to see the smile on her face."
Kathi: "The thing I looked forward to the most was the finish, to witness Kasey's realization that she has done this incredible thing, that she has redefined what is possible, that she is an amazing human being capable of infinite greatness."
Coach Julie: "That magic of the first Ironman: the highs and lows but mostly that smile that comes with the finish line."
Race day began at 6:00am on November 21st. Kasey and Alexis started the 2.4 mile swim. Alexis chose this leg of the race to support Kasey because she knew that the swim is where race day nerves show up the most.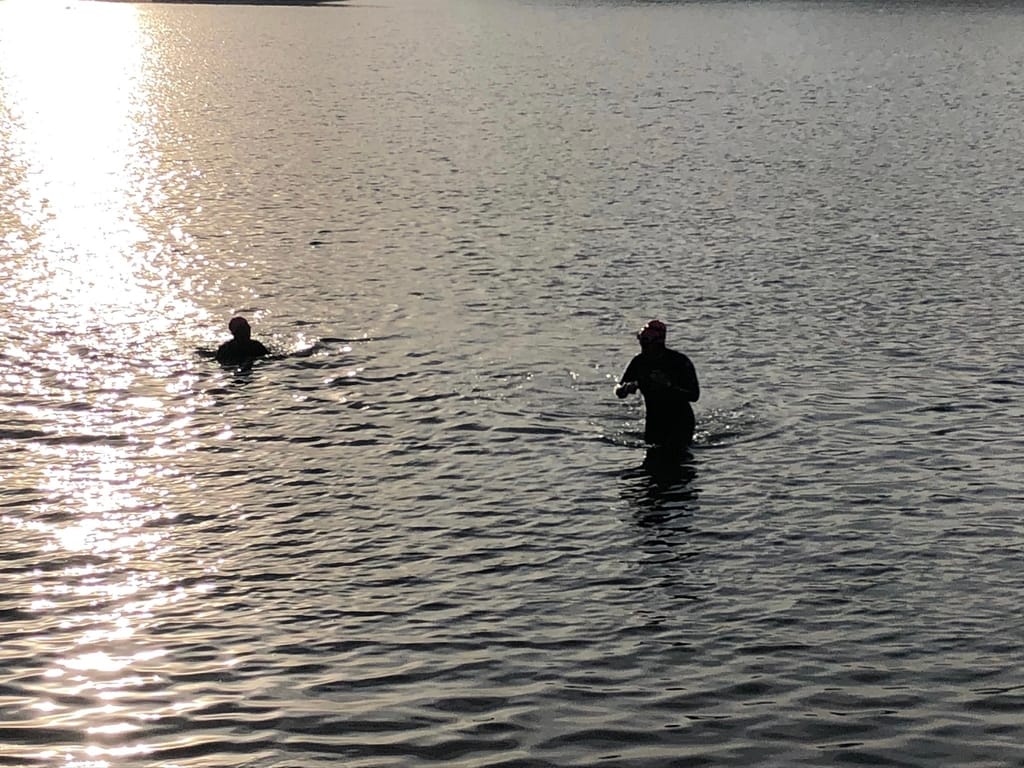 Alexis: "I know the nerves of race day and the comfort of having thousands of other people in the water with me who are probably just as nervous and excited as I am. I wanted Kasey not to be alone in the water and to help be her guide around the lagoon. It was an absolutely amazing experience to be able to swim with Kasey."
As Kasey completed the first leg of the Ironman, there was a cheer squad waiting for her in T1, including Alex and John, who would both ride a big chunk of the bike course with her.
John: "Kasey is a special person, great athlete, and great teammate. She does not know how much she inspires me and has since the day I met her. Kasey is open about her struggles with depression and physical challenges. From what I can tell she just keeps showing up. I see the effort she puts in and it is inspiring and motivating for me. I know how hard she worked to get to toe the line. So, there was no way I was going to miss supporting her on that day. When Julie told me Arizona was canceled and she was organizing a DIY Ironman for Kasey, it took all of 1 second to commit to being there."
Both T1 and T2 were set up at Kathi's house, which also became the Mob/support crew home base.
Kathi, who rode the entire bike course with Kasey, recalled, "Kasey has been my best training buddy since I first started working with Julie. Supporting her race day was an opportunity to give back a small portion of the support, happiness, and encouragement that she has given to me."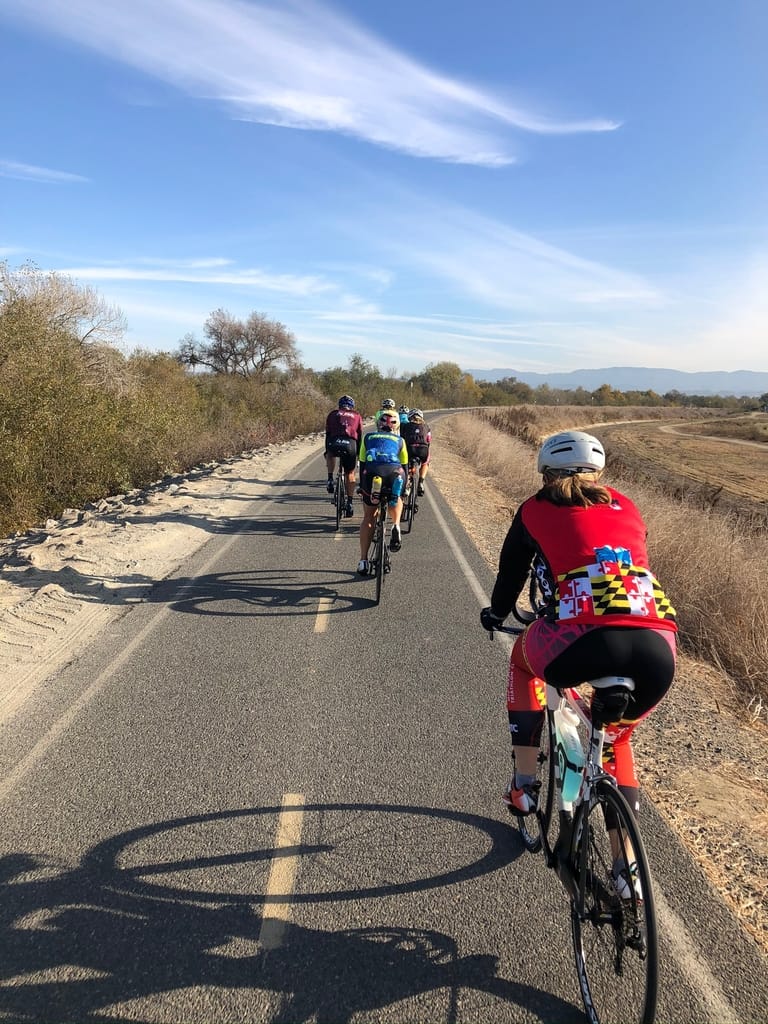 Willingly, unwillingly, or often both, the run is where we traverse through the darkness. After a 2.4 mile swim and a 112 mile bike, the 26.2 mile run is simultaneously the last leg of the race and the beginning of the battle against what was once seen as impossible.
Kasey's support crew knew that the run was where they would be needed most. And almost as much as they wanted to be there for Kasey, they were compelled to be there for themselves too. We become more capable when we bear witness to another's ability. Their light reflects our own.
As anyone who has ever witnessed an Ironman knows, the run is also where miracles happen. The human body isn't physically set up to be able to do this. We have to source our strength from somewhere else.
Kasey had support from numerous Mob members on every step of the run course, including Jeff, who ran the whole last 13.1 miles with her.
Jeff: "I expected to feel the love and the camaraderie of the team. What I didn't expect is that it would be an emotional moment for me watching Kasey's strength, both physical but mostly emotional, take over."
While the Ironman is a feat of incredible individual fortitude, those of us who have endured the distance know that we didn't get there on our own. But more importantly, we know deep down that it would have been empty as a solo endeavor.
Kasey felt the energy of the Mob every step of her journey.
"There were times I just wanted to stop, I wanted to cry, but the Mob was not going to let that happen. They made me feel like I had a rope tied around my heart and it was there to pull me along as I needed it. Seeing their excited faces made me forget the pain for a while and be thankful for such wonderful friends. They made me feel like I really was worthy of love and support and that it was okay to have other people help me. That was really hard to be okay with."
Endurance strips us down. It asks, "Who are you to dream so loudly?"
Those of us who are called to endurance feel that question burning under our skin. We yearn to know who we are in the darkness, when we've ventured longer and further than we ever have before. Often, we find ourselves in the depths without an answer. The question pulls at us and mocks us for ever daring to ask it. But if we are lucky, we find ourselves surrounded by others who can answer it for us, until we become brave enough to know our own answer.
The NYX Sherpa Squad is an offering of gratitude to the people who carry our self belief and worthiness until we can begin to carry it on our own. The sherpas are the once unsung heroes that we are now choosing to sing about. They reflect our tenacity back to us with greater intensity;
Filling the liminal spaces between darkness and light with encouragement, but not projection;
Holding the integrity of the transition between who we were and who we are becoming.
Kasey's entire support crew was there to greet her at the finish line, along with a personalized message from the one and only Mike Reilly, officially proclaiming her an Ironman.
Everyone felt the ethereal timelessness of the moment.
In the midst of celebrating one person, everyone was reassured of the potency of our dreams to transport us, when we can share them with our community. Especially when our community feels like this:
Coach Julie: "This community is family. I see each athlete building up each other. The bonds go deep and after a day like this, this group is even closer."
Jeff: "Triathlon is an individual sport on the surface but it really is a team effort and I cannot underestimate the power of that team support."
John: "This community feels like family, power, guidance, inspiration, and endless energy. As an athlete it empowers me to reach for new heights, dig deep, set goals that seem crazy and do whatever it takes to achieve them. I got so much out of supporting Kasey out there. A renewed appreciation of triathlon, racing, determination. A reminder of how special this community is. When you feel it, you know it."
Kasey: "For the first time in my life I felt free to dream, and with a lot of support it came true. It is still hard for me to process the fact that I am actually an Ironman. I mean really, how freaking lucky am I to have done my first Ironman, on my home turf, supported and surrounded by my triathlon family? They took so much time out of their day to make this happen and they never gave up on me. It is really hard for me to say how deep the NYX Mob has touched my heart and to feel like part of this community. I am looking forward to the day that I can do the same for others."
From Day 1 of NYX Endurance, our mission has been to develop an endurance community that empowers each member towards both individual and collective potential.
We aim to lead and inspire a community of athletes who are willing to descend into the darkness;
Who are ready to sacrifice their current selves for their potential selves;
Who believe that by braving that process together, we find the shared humanity that drives us farther than we could have endured on our own.
This story is exactly what we had in mind.