By: Leslie Myers, NYX Mob Member & Professional Chef
It doesn't matter if you are an omnivore, vegan, vegetarian, keto-tarian or flexitarian. The best thing that you can do to level-up your diet is to cook or prepare your own meals and eat as many plants, namely vegetables, as possible. These recipes are chock-full of all different types of vegetables and other fibrous goodness and the diversity of plants promotes a healthy gut microbiome, which can be key to longevity. Going into the holiday season, make it a goal to include a serving or two (or five) of vegetables in each meal. Doing this should help stave off taking too deep of a dive into all of the food "merriment" that we tend to find ourselves in the middle of during this time. Here are 3 recipes to get you started:
Passionfruit and Mango Smoothie with Sneaky Vegetables
Frozen passionfruit is available in some stores but if you can't find it, just use a little extra mango and a quarter of a peeled lime. For those of you trying to eat more vegetables, this is a sure way to incorporate them into your diet. We often freeze the center pieces of zucchini or yellow squash after making noodles from the colorful outsides and add them for smoothies for extra fiber and phytonutrients.
Ingredients
· 1/3 cup frozen Passionfruit pieces
· ½ cup frozen Mango pieces
· ¼ cup frozen Pineapple pieces
· ¼ cup frozen Cauliflower florets
· ¼ each Zucchini or Yellow Squash (optional)
· ½ cup Spinach leaves
· 1 piece Orange Zest (removed from an orange with a wide-mouth peeler)
· 1 Tbsp Chia Seeds
· ½ tsp Vanilla Extract (optional)
· 1 Scoop Vanilla Protein powder (optional)
· 1/8 tsp Salt (optional)
· 1-2 Tbsp Maple Syrup or 4-6 Stevia Drops (optional)
· ¾-1 cup Water plus more to adjust the consistency
Preparation
· In a high-speed blender, combine all the ingredients and puree until smooth. Adjust the consistency with water.
Hearty Minestrone Soup
Serves 6
Ingredients
· 1 Tbsp Olive Oil
· ½ of a medium Yellow Onion, finely diced (about 1 cup)
· 1 stalk Celery, finely diced
· 1 medium Carrot, grated
· 1 bunch of Kale, ribs removed and cut into ½ inch ribbons
· ¼ head of Green Cabbage, finely chopped
· 1 cup of water to soften and steam the vegetables
· 1 Tbsp minced Garlic (about 3 cloves)
· 1 tsp dried Oregano Leaves
· ½ tsp dried Thyme Leaves
· ½ tsp Fennel Seed, lightly crushed
· 1 Bay Leaf
· 1 each 15 ounce can diced Tomatoes with the juice
· 3 cups of Vegetable or Chicken Stock
· 2 rinds of Parmesan Cheese (most grocery stores will sell these separately) sub ¼ cup Nutritional Yeast for Dairy-Free
· 1 each 15 ounce can White Beans, drained
· 1-2 tsp Balsamic Vinegar
· Salt and Pepper to Taste
· Pesto to drizzle (optional)
Preparation
· Heat the oil in a large, heavy soup pot over medium-high heat and add the onion, carrot, celery and kale. Cook, stirring, until tender, about 5 minutes. Add some of the water to soften and steam the vegetables and let it evaporate while the vegetables soften.
· When the vegetables are soft, add in the garlic, oregano, thyme, fennel seed and bay leaf. Stir together for about a minute and stir in the tomatoes with their juice.
· Add the 3 cups of vegetable or chicken stock and the parmesan cheese rinds. Bring to a boil, reduce the heat, cover and simmer for at least 30 minutes.
· Add the white beans and balsamic vinegar. Adjust the seasoning with salt and pepper. When ready to serve, remove the parmesan cheese rinds and the bay leaf.
· Drizzle each bowl with pesto, if desired.
Farro Salad with Mint, Apple, Arugula and Pomegranate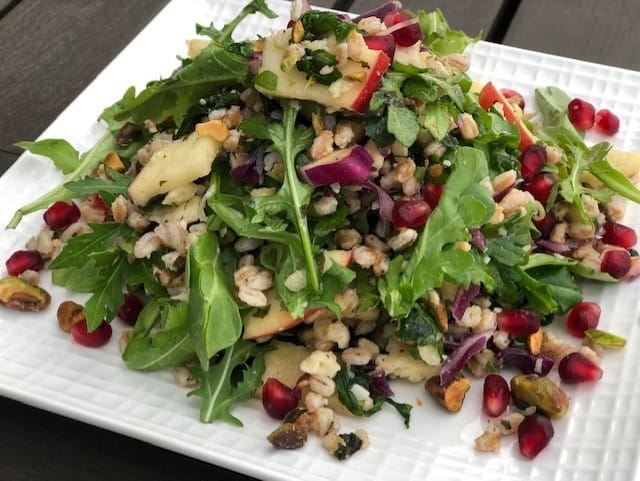 This salad is loaded with vegetables, herbs, and fiber. Substitute cooked brown rice or quinoa for gluten free option.
Ingredients
· 4 Tbsp Olive Oil
· 3 Tbsp Lemon Juice
· 1 tsp Honey or Maple Syrup
· ¼ tsp ground Cinnamon
· ½ tsp ground Pepper (plus more to taste)
· ½ tsp Salt (plus more to taste)
· 1 tsp chopped Garlic (about 1 clove, minced)
· 1.5 cups cooked Farro (substitute quinoa or brown rice for gluten-free)
· 1 apple, cut into ¼" slices then cut into thirds so that pieces are "fork-friendly"
· 3 Green Onions, thinly sliced
· 1 cup Mint leaves, thinly sliced
· 1 cup Parsley leaves, thinly sliced
· ½ cup thinly sliced Red Cabbage
· 4 cups Arugula leaves
· ¼ cup toasted, salted Pistachios, roughly chopped
· ½ cup Pomegranate Seeds
· Feta, Goat or Parmesan Cheese (optional)
Preparation
· In a large bowl, combine the olive oil, lemon juice, honey or maple syrup, cinnamon, pepper, salt and garlic.
· Add the farro and coat with the dressing. Fold in the apple, green onions, mint, parsley and red cabbage. Just before serving, fold in the arugula and top with the pistachios, pomegranate seeds and cheese.
Leslie Myers is the chef-owner of Foodsense, Now; a company devoted to the education and production of healthy, whole-food cuisine. Leslie designs cooking classes and corporate culinary wellness programs in Southern California. She strongly believes that a varied diet loaded with vegetables and plants is a large part of the equation in longevity and athletic performance and she has the credentials to prove it: Leslie is an eight-time Hawaii Ironman Triathlon qualifier and multiple-time Ironman Age Group Triathlon champion.